What Hester transfer could mean for Rutgers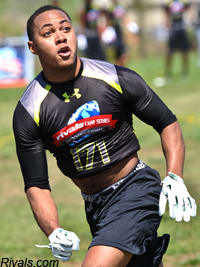 Rutgers will add what could be a major piece to its secondary for 2015 and beyond this week, when former University of Miami safety and New Jersey native
Kiy Hester
's transfer becomes official and he joins the Scarlet Knight program.
The 6-foot-1, 205-pound Hester, a Wayne (N.J.) DePaul Catholic product, enrolled at Miami this summer and participated in training camp, but elected to pursue a transfer nearer to home to be closer to his ailing mother. After initially having his transfer to Rutgers blocked, Hester was released by Miami Monday morning.
"To leave wasn't an easy decision for him to make," said DePaul Catholic assistant coach Bryan Murray. "The situation at home isn't new but it escalated recently and to not be able to get to his mom and help her was causing him a great deal of stress. I think [head] Coach [Al] Golden and Miami did a great job of understanding what was going on at home and communicating the different options. In all of our conversations they stressed that they wanted to support him and whatever was in the best interest of him and his family."
Hester was a 4-star recruit, who was committed to Rutgers from June 2013 until last November, when he re-opened his recruitment before eventually committing to and signing with the Hurricanes.
He must redshirt this season, but his presence should provide a boost to Rutgers' back line of defense starting in 2015.
"Kiy has good size, speed and athleticism," Murray said. "His football I.Q. is another strength. As a safety, you're getting a guy that can drop in coverage, play man and fill the alley on run support. He's a very physical player."
Next season, Rutgers must replace strong safety Lorenzo Waters, a three-year starter, and Hester figures to be a strong possibility to fill Waters' spot. He also could see time at free safety.
Current starting free safety Delon Stephenson will be back in 2015, but his backup Johnathan Aiken, who sees significant time in Rutgers' nickel and dime packages, will have graduated.
Hester has experience in coverage but also has the size and physicality to play in the box and mix it up against the run.
"I believe he can play either spot but more than likely he's a strong safety." Murray said. "I think because of his versatility it will allow his coaches to run some different things scheme-wise without having to switch up personnel. Defensively, I think he can play either safety spot or outside linebacker. In my opinion, he's still growing to get another inch and weigh 225-230 pounds at the end wouldn't shock me."
Off the field, Hester has always been highly respected by his teammates and peers around the state, and he was a major linchpin of Rutgers' 2014 recruiting class before his de-commitment. His return to the Garden State could pay major dividends on the recruiting trail, and he figures to fit in well with his new teammates, many of whom he already knows.
"Kiy has a personality that draws most people into him," Murray said. "He helped a lot of the young guys with assignments on the field and provided a good example in the classroom as well. Whatever school our kids go to, it's always our goal at DePaul that they've been prepared to step up and take leadership roles in whatever they're doing and I hope he can do that as well."
To read more about the latest buzz regarding the Hester transfer, click
here
.