Top Stories from Rutgers Wrestling's Road Trip to Michigan
Two Upset Losses lead to Rutgers falling to Michigan State
Rutgers wrestling took a road trip to Michigan this past weekend, taking on Michigan State Friday night, and the University of Michigan on Sunday. The Michigan State dual was the much more favorable match-up for Rutgers on paper, providing the opportunity for Rutgers to earn a ranked victory on the road.
The dual was going right on schedule from 125-lbs through 174-lbs, as both No. 14 Rutgers and No. 21 Michigan State were winning bouts where they were favored. This put Rutgers in what most would assume to be an ideal situation, with Rutgers leading the dual 14 – 10 going into the one-two punch of John Poznanski (184) and Greg Bulsak (197).
Poznanski would take on No. 27 Layne Malczewski, a match-up where Rutgers was heavily favored. Poznanski was on defense in the first period after a Malczewski takedown, as he tried to granby roll free from Malczewski, while Malczewski had a half-nelson in on Poznanski. Malczewski was able to stay tight to Poznanski, keeping the half-nelson in, and stopping Poznanski's granby attempt. Poznanski ended up on his back, unable to roll through, leading to the Malczewski pinfall and a huge upset and momentum changer for Michigan State.
Rutgers then trailed Michigan State 16 – 14, but was still in position to win the dual if Greg Bulsak could defeat the nationally ranked No. 15 Cameron Caffey at 197-lbs. Bulsak and Caffey went back-and-forth throughout the match, with Caffey maintaining the lead late in the third period.
Caffey was able to merkel Bulsak to his back, which led to Caffey pulling off the 12 – 4 major decision, and putting Michigan State in a promising spot to win the dual with a 20 – 14 lead.
Michigan State heavyweight, Brad Wilton, was able to hold Rutgers' Boone McDermott to a decision, giving Michigan State the 20 – 17 upset win over Rutgers.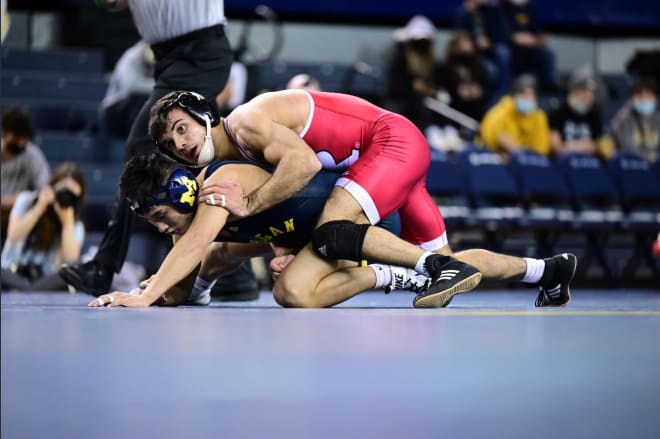 Injured John Poznanski sits out against Michigan; Expected to be back against Rider
As first reported by James Kratch of NJ.com, John Poznanski suffered an injury, and did not wrestle in Rutgers dual with Michigan. Had Poznanski wrestled he would have likely seen 2020 Olympic Bronze medalist, No. 2 Myles Amine, in a highly anticipated match-up between two All-Americans.
It is reported that Poznanski suffered the undisclosed injury in the Michigan State match, where he was pinned by No. 27 Layne Malczewski.
Although Poznanski's injury is not known at this time, it appears to be nothing too serious as Rutgers is hopeful he will wrestle in their next dual meet, which is against Rider on February 3rd at the Jersey Mike's Arena.
Former Rutgers National Champ Suriano Helps Lead No. 3 Michigan to Victory over Rutgers
Although there were several intriguing individual bouts between the No. 14 Scarlet Knights and No. 3 Michigan Wolverines, an old, familiar name was stealing the headlines leading up to the Sunday afternoon dual.
Nick Suriano, who won the first ever NCAA title in Rutgers wrestling history in 2019, would be taking on his former school after transferring to Michigan this season. Suriano, who started his career at Penn State, transferred to Rutgers in 2018, where he would go on to wrestle two seasons with the Scarlet Knights. In his two years of competition at Rutgers, Suriano was the National Runner-Up in 2018, and won the 133-lb National Title in 2019.
Going into the match, Rutgers head coach, Scott Goodale, expressed gratitude and appreciation for Suriano, making it very clear there is no bad-blood with the former National Champion after his departure from Rutgers.
"He shined a huge spotlight on Rutgers wrestling and because of that, I'll forever be grateful", Goodale told Steve Falk of the Asbury Park Press prior to Rutgers' match with Michigan.
Suriano would wrestle Dylan Shawver at 125-lbs, where he defeated with a 16 – 1 technical fall. Suriano's win would be the start of a dominant performance for the Wolverines, as they went on to defeat Rutgers 32 – 8, winning eight out of ten bouts.
Red Hot Sebastian Rivera Moves to 18 – 0; Continues Bonus Point Streak
Sebastian Rivera has been dominating the college wrestling landscape for several years now. Despite all of the success the four-time All-American has had throughout his career, Rivera has never looked better than he has this season.
Rivera went 2 – 0 in Rutgers' Michigan road trip, moving his unblemished record to 18 – 0. As if an 18 – 0 record isn't impressive enough, Rivera has a bonus rate of 100% this season. That's right, Sebastian Rivera has given his team a bonus point victory in all eighteen matches he has wrestled this season.
On the year, Rivera has two pins, eleven technical falls, three major decisions, and has received two forfeits. That makes Rivera one of two wrestlers in the entire country that has a perfect bonus rate, who have wrestled in over ten matches this year. The other being 2020 Olympic gold medalist, Gable Steveson, of Minnesota.
As it stood as of January 18th (the last time the rankings were updated), Rivera was ranked 4th in Flowrestling's Hodge Trophy rankings, with a dominance score of 4.92. This was second to only Mason Parris of Michigan, who also had a 100% bonus rate going into the weekend, with a dominance score of 5.00. Parris, who was ranked 3rd in the Hodge rankings, only defeated Rutgers' Boone McDermott by decision, meaning Rivera should jump Parris in both the rankings and the dominance score.