The latest on Darius Hamilton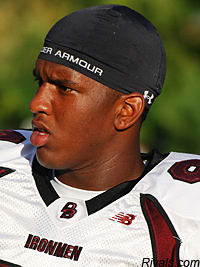 Plenty of attention continues to follow one of the nation's highest-ranked recruits in Don Bosco Prep defensive end
Darius Hamilton
.
This constant attention is something that Hamilton, Rivals.com's No.5 ranked player nationally, has learned to not only accept, but embrace throughout his hectic recruitment.
"Some kids think it gets annoying; I don't really think it gets annoying," said Hamilton, who is NJVarsity and Rivals' top ranked player in New Jersey. "I think, as a kid, it's something that you wish for growing up. When you do what you're supposed to do, good things happen. I just try to take it in stride."
Hamilton, the son of ex-Pitt and New York Giant star Keith Hamilton, said his father and coaches have been instrumental in helping him deal with the process.
"My dad just told me take it one day at a time," Hamilton said. "My dad and my coaches, they don't really let this get too overwhelming. All in all, it's a blessing. I'm just thankful for everything."
Another factor that eases the burden on Hamilton is the fact his closest friends and classmates at Don Bosco are going through the same things he is.
"We all look out for one another, we all know what the recruiting process has turned into," Hamilton said. "We're still the best of friends, none of this changes anybody. We still joke, we still laugh, we're still the same people."
Hamilton originally announced he would be ending the recruiting process in October, but says he is calling an audible on those plans.
"I did say October, but the only way that was going to happen was if I got my officials done," he said. "I haven't been able to do that, so it'll probably be after a season."
Currently, Hamilton's top five is as follows: Rutgers, Cal, Florida, Alabama, Tennessee. He has yet to visit the SEC schools, and says he does not know when he will check them out. From a Rutgers perspective, Hamilton lauded Jeff Hafley, saying there's "no doubt" he is one of the major reasons that Rutgers has been the favorite for Hamilton's for a while.
"He's great, man he's great," Hamilton said of Hafley. "When I was a sophomore he actually started recruiting me from Pitt. Now he's at Rutgers, you saw at Pitt how many kids he brought from Jersey there and now what you're seeing is the mastermind; how he's bringing all the Jersey kids to Rutgers."
Whichever school Hamilton chooses, they will have to fit the guidelines he has laid out for his ideal destination.
"Definitely a place with good academics; I want to study communications in college because I feel if I can't play football, I still want to be able to talk about it. It's something I love," he said. "I want a place where I have a chance to play. I'm not asking for a spot as soon as I get there, just a chance to show you what I can do because I feel like I can make the most of my opportunity. I also want a great atmosphere: I want to be around guys I can see myself around every day along with the coaches."
-------------------------------------------
All content generated by Scarlet Nation writers from August 4-10 is free to everyone. We hope you enjoy this opportunity to see the type of Rutgers coverage subscribers get 52 weeks a year.
We are also happy to offer you an exciting 30 day extended free trial, which will take you all the way through training camp. Just visit our
subscription page
and enter the promo code: Rutgers30.
Don't forget to visit our
message boards
and spread the word through your favorite social networking sites. Thank you for your support!