Signed and Knighted: Matthew Thomas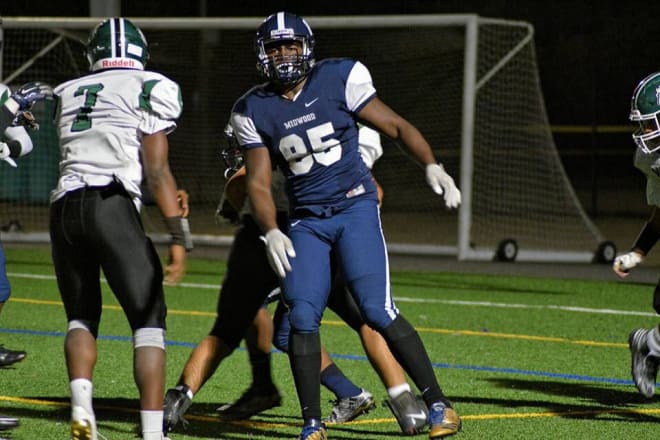 Rutgers received a letter of intent this morning from a promising defensive player, who hails from the Brooklyn area. Here is more on one of the newest Scarlet Knights.
DE Matthew Thomas – Midwood (Midwood, N.Y.)
In his words: "I am really excited. It came really fast. Signing day is already here. I feel like I just committed yesterday. I didn't start playing football until my freshman year. I was going into high school to play basketball and baseball. When I went to Midwood [High School] and saw the football field, I just had to play."
Analyst Take: Scarlet Nation Recruiting Analyst Shawn Brown - "Unfortunately, I saw him in the back half of the season when he suffered that chest injury. He was recovering from that, but he has great size, like 6-foot-3, 245 pounds. He is a muscular kid and definitely gets after the ball. The opposing offensive line definitely had a few penalties playing against him. He plays with a lot of effort. He is just a physical presence. He plays a lot of defensive end on passing downs and he plays a lot of 3-technique as well for Midwood. He could keep his pad level a little lower at times, but the effort was there.
Team Take: Rutgers needs some help on the defensive line as the staff has struggled to recruit the position recently. The departure of Kemoko Turay also opens up the need for a dynamic pass-rushing defensive end. Rutgers has been making it a habit of moving defensive ends to the interior and that trend could continue with Thomas. He is coming in to play the Jack (defensive end) position, although that could be subject to change if he adds more weight. Either way, there is plenty of opportunity for playing line on a D-line that is not particularly deep.
Commitment Take: Thomas committed to Rutgers in late August just before the start of the college football season. Thomas had a host of regional offers, but remained a bit of an underrated recruit out of Brooklyn. Rutgers had been persistent with Thomas, who felt as though he had seen enough of the recruiting process at the time of his commitment.