Seagears talks NCAA Tourney, Fab 5 and more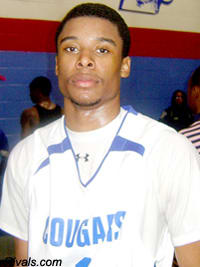 The night before the NCAA Tournament tipped off last week, Rutgers associate head coach David Cox sat in
Jerome Seagears
' home to check in on the committed point guard. The pair could only talk about what it would be like to play in March, and the conversation alone was enough to excite Seagears for his arrival in Piscataway.
"We were talking about it and he was like, 'Next year, hopefully that will be us,'" Seagears said. "There are no words that cannot explain what it's like watching this tournament. It's so much hype and that feeling you get before a game, like it's your first game of the season. It's crazy."
Flora Macdonald Academy's season ended with a semifinal loss in the playoffs in late February, giving Seagears all of March to focus on the next level.
The nation's 99th-ranked prospect kept tabs on his future teammates in the Big East Tournament, and was just as surprised by the loss to St. John's as anyone else.
"I would say that's Mike Rice having to pay his dues as a new coach in the Big East," he said. "I don't think the refs would have done that to Jim Boeheim or Jim Calhoun."
With Rutgers' season over, Seagears turned his attention to the NCAA Tournament, where the self-proclaimed "Big East fanatic" pulled for his future conference foes.
He also found time to watch ESPN's "Fab Five" documentary at least 10 times, he said.
With his class of seven highly-touted freshmen set to arrive at Rutgers on May 28, Seagears saw the documentary as an example of what they can accomplish.
"I don't want to be just like them, but we want to do some special and make our own path like they did," Seagears said. "We want to be successful and get those championships and Final Fours. We're looking forward to doing something like that - the 'Magnificent Seven.'"
Of that class, Seagears keeps in touch with most with Kadeem Jack, who redshirted in second semester. He also ran into Greg Lewis last weekend at an all-star game.
Mostly, though, Seagears talks to Class of 2012 commit
Jordan Goodman
.
The duo played together with the DC Assault - a loaded team that Seagears believes can help prepare him for the college level. Along with Goodman and fellow commit
Malick Kone
, Seagears played with Duke commit
Quinn Cook
and coveted 2012 guard
Torian Graham
on DC Assault.
"Playing with top-tier talent before getting to Rutgers and the college level - that's probably the biggest adjustment players have, playing with better talent," Seagears said. "In high school you might be the best player on your team, but in college everyone is good. That definitely helps."
Seagears was certainly the best player in high school - he averaged 31 points and eight assists this season - but he doled out plenty of praise for his AAU teammates.
"Just with him being 6-foot-9, he's so versatile," Seagears said of Goodman, who he speaks with every other day. "He has a do-it-all kind of game. Once you get him to focus in on what he does good and have Mike Rice coaching him, it will be no problem. As long as he stays in his game and does nothing out of character, he reminds me of Michael Beasley at Kansas State."
While Goodman still has another year of high school basketball, Seagears only has a few months until graduation, and then eight days until reporting to Piscataway.
That can't come soon enough.
"I've been looking forward to getting into a college program and being a college student and everything that comes along with it," Seagears said. "On top of that, playing basketball - that's what I live for with the college basketball atmosphere."