Sanu the receiver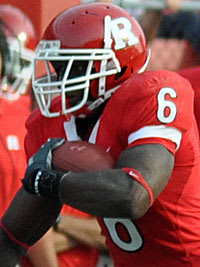 Last season marked the coming out party for Rutgers wide receiver Mohamed Sanu. It was not only his first year playing college football, but it was also his first year playing the position. It was also a role that Sanu had always dreamed of playing.
Yet, it wasn't until he was a true freshman in college when Sanu was finally able to line up as a wide receiver.
"Actually, when I was younger, that's where I wanted to play," said Sanu. "But when I was younger, none of the kids in Pop Warner could really throw, so I played running back. It kind of worked out for the best because I always wanted to be a receiver ever since I was a kid. I always had one of the best pair of hands growing up."
Sanu also missed out on playing wide receiver at the high school level, but that wound up being his decision.
"In high school, I wanted to play quarterback," Sanu acknowledged.
Then, when it came time to take the field as a freshman in college, Sanu started off lining up on the defensive side of the football. For his first twelve spring practices of 2009, he showed that he could also be a devastating safety.
"We look at it this way, he can play almost any position on the field," said senior safety Joe Lefeged. "That's just the type of player he is. He has God-given talent that a lot of people don't have. To tell you the truth, we could use him anywhere."
A lack of depth ultimately forced Sanu to switch back over to offense and step into the spot he longed to play as a kid. And it didn't take long for him to feel right at home as a wide receiver.
"I'm very comfortable there," said Sanu. "It's been a year, but it almost feels like five years."
In that span of time, Sanu has also gone from pupil to teacher in quite a hurry.
"Last year, I was still learning a lot of things and learning my role," said Sanu. "Now that I've been here for a year, I know a lot of different things and I'm helping a lot of guys out instead of a lot of guys helping me. I feel that I'm more mature and I'm just working to get better."
Sanu is still not the typical wide receiver. He is continuing to relive his days at both running back and quarterback by taking his share of snaps out of the wildcat offense.
"It's really enjoyable being able to do that many different things and prospering in that role," said Sanu. "I'm really enjoying myself."
But above all, Sanu has quickly become one of the most dangerous wide receivers in the Big East. In addition to being a prolific wildcat quarterback, he remains the primary target for Rutgers starting quarterback Tom Savage.
"He's a tremendous athlete," said Savage. "He'll handle anything that's thrown at him. Of course, as time goes on, everyone's going to realize how much of a player he is. Everyone's going to double cover him and everything. I think he's such a tremendous athlete that it's going to be hard to stop him."
-------------------------------------------