Rutgers makes Calhouns top three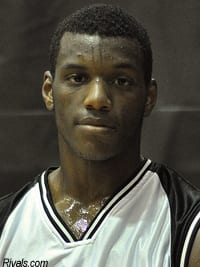 After his squad lost 35-0 to Manalapan Friday night, Middletown North wide receiver
Shilique Calhoun
, who holds 11 FBS offers, discussed his recruitment with ScarletNation.com. Calhoun said he narrowed his list to about eight teams and only one school is definitely in his top three. Where does Rutgers stand?
Calhoun said Rutgers is the only school definitely in his top three at the moment.
"Rutgers is up there," Calhoun said following the game. "Rutgers is definitely top three. They're close so I think I want to take an official visit there later in the season. I'm not even sure about the rest of my list."
Calhoun, standing at 6-foot-5, 225 pounds, has no official visits scheduled yet. He planned on one last week to Michigan State, but had to cancel because of a time-change in Middletown North's game that week.
"Things are moving smoothly right now," Calhoun said. "We're trying to plan some official visits. It gets kind of hard at times, but things are still going. There's a lot of schools I want to visit, but unfortunately I can't take visits to all of them."
Against Manalapan and Rutgers commit
Mike Bimonte
, Calhoun's Middletown North squad struggled.
Offensively, Calhoun made two catches for 17 yards at wideout, one of which was a diving, one-handed snag that moved the chains.
"I don't even know how it happened," Calhoun said. "I heard the play in the huddle and I was like 'I gotta catch that. I gotta catch that.' The only thing going through my mind was that I had to catch that ball."
Defensively, Calhoun made one tackle for loss and assisted on two more tackles from the defensive end position.
"Honestly it wasn't tough on me as much as I think it was tough on our linebackers because they had a lot of jobs they had to do and our corners went up against some tall and extremely fast kids," Calhoun said. "This is an extremely frustrating game. We could have won this game, but we beat ourselves with dumb mistakes. They're correctable though so we're going to get ready for practice tomorrow and get ready for Marlboro next week."