Rutgers Football set to welcome No. 11 Michigan State to town
Rutgers Football is now 3-2 on the year after a 52-13 loss to No. 7 Ohio State last week, however the Scarlet Knights will look to snag their first Big Ten Conference win of the season this weekend as they welcome No. 11 Michigan State to town.
TKR has the latest on this week's game below, but before that here is a quick word from our from our sponsor.
--------------------------------------------------------------------------------------------------------
Are you a displaced corporate executive or wanting to put your career in your own hands? Are you an experienced entrepreneur wanting to diversify? Well, Adam Goldman can help! Adam is Jersey born (Exit 36 on I-78, Watchung Hills High School) , a Knight Report member, a Scarlet Knight Fan and franchise veteran for over a decade. Using his expertise, he helps others find their American Dream through a very thorough and FREE consultation process. 100% free, so what do you have to lose?!!
Your OWN New Business - Made Easy!
Find Your Perfect Franchise at FranchiseCoach.net
Call Adam anytime at (844) 800-3726
Here's everything you need to know about this week's matchup.
WHEN: Saturday at Noon EST, Big Ten Network
WHO: Rutgers Scarlet Knights vs. Michigan State Spartans
WHERE: SHI Stadium -- Piscataway, New Jersey
PLAYERS TO WATCH:
THE SKINNY: Thorne has done a great job of distributing the football to the playmakers on the perimeter on the Spartan's offense in which he possesses consistent accuracy and an ability to quickly go through his progressions. Thorne is a rhythmic passer and understands where to go with the football pre/post snap read. An underrated part of Thorne's game is being a threat as a runner from time to time.
RUNNING BACK KENNETH WALKER III
THE SKINNY: Walker is downhill explosive runner who displays impressive open field lateral agility. He has a very good feel and tempo for when to hit the hole out of the backfield or to set blockers up based off the flow of the defensive front. Walker III is dangerous in the open field and is extremely difficult to be taken down due to his lateral cuts and strength as a runner.
THE SKINNY: Henderson is the leader for the Michigan State defense and shows impressive instinctive and range skills from the back end of the secondary. Henderson has really good range in being able to protect the deep middle of the field, while being a force as a tackler in the open field.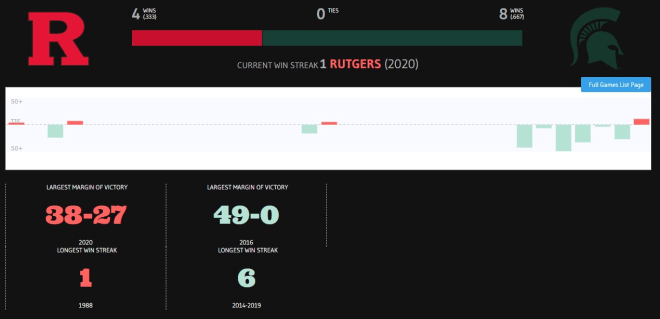 RECORD THIS SEASON: 5-0 (2-0) / Notable wins against Miami, Northwestern and Nebraska
SERIES HISTORY: This week's game between Rutgers and Michigan State will be the 13th ever matchup between the two schools, with the Spartans leading the series 8-4. However the Scarlet Knights own the most recent victory, winning by a final score of 37-27 last year.