{{ timeAgo('2023-01-24 19:22:18 -0600') }}
basketball
Edit
Rutgers defeats Penn State 65-45 to win sixth B1G game of season
Rutgers Basketball came to play today, defeating Penn State inside of Jersey Mike's Arena on Tuesday night by a final score of 65-45.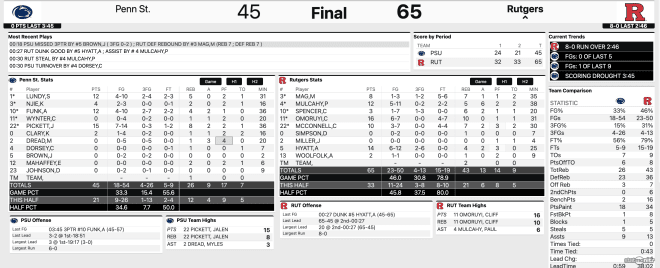 The Scarlet Knights offense did a pretty good job overall tonight, especially considering leading scorer Cam Spencer couldn't hit much of anything to start the game (1-of-7 to start). Luckily a couple of the other guys were able to pick up the slack as Cliff Omoruyi finished with a team high 16pts to go along with double digit performances from Aundre Hyatt (14pts), Paul Mulcahy (12pts), Aand Caleb McConnell (10pts). A solid performance overall from the offense as they used their size to manhandle Penn State down low, with nearly half their total points coming from the paint (32pts).
Also let's not forget that Rutgers played legit defense tonight, holding the nation's 11th best three-point shooting team (39.4% on the year) to just 4-of-26 from beyond the arc. On top of that, the Scarlet Knights also locked down the Big Ten's assist leader in Jalen Pickett too. It didn't matter who was on him, as Pickett was caught holding onto the ball too long on multiple possessions throughout the game, causing the Nittany Lions to take several questionable shot attempts late in the shot clock.
Overall another solid Q2 victory (third of the season so far) for the Scarlet Knights tonight, as they prepare for another tough one this weekend against a pesky Iowa team.
RHOOPS PLAY OF THE GAME....
Of everyone on Rutgers, no dribble, only pivot foot left with the fate of the universe on the line or the Martians have the death beam pointed at Earth and you better hit it, I want [Paul] Mulcahy.
Truly a masterpiece here as he gets the beautiful lay-in.
UP NEXT....
Rutgers will head back on the road this weekend for a Sunday afternoon matchup against the Iowa Hawkeyes. Tip-off is set for 2:00pm ET and the game will be televised on BTN.