{{ timeAgo('2023-01-24 09:28:04 -0600') }}
basketball
Edit
Rutgers Basketball enters critical week in Big Ten play
There's no question the Big Ten is one of college basketball's toughest conferences, and playing in this league from game-to-game is an absolute grind. While Purdue sits alone at the top of the league in cruise control, at least eleven teams are within a game of each other in the Big Ten standings.
Rutgers enters this week at 5-3 in the conference, tied with Michigan for second place; however, Wisconsin, Michigan State, Indiana, Penn State, Illinois, and Iowa are all sitting at 4-4 trying to chase the Scarlet Knights for positioning within the Big Ten. Now, Rutgers enters a critical point of the season where the Scarlet Knights can distance themselves from the rest of the pack or join the rest of the pack.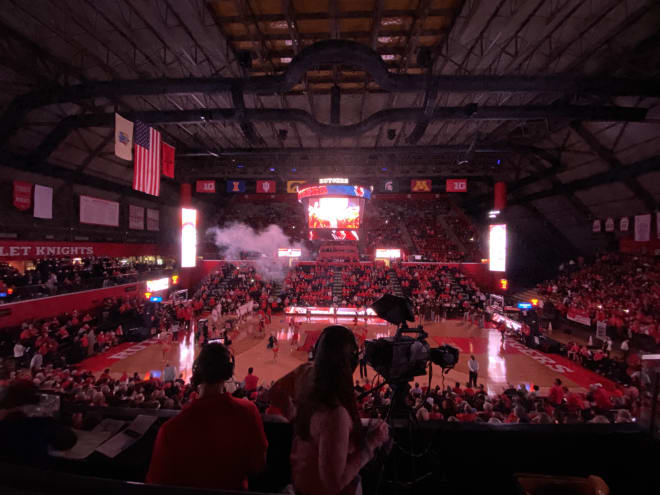 The Scarlet Knights face a tough challenge from Penn State at home on Tuesday, 6:30 PM, and then travel to Iowa City to face Iowa on Sunday, 2 PM. Both teams have presented problems for Rutgers over the years, and this week's games will be no different.
Since Steve Pikiell became head coach in 2016, the Scarlet Knights are 4-6 against Penn State. In last year's season finale, Penn State was a shot away from stunning Rutgers on their home floor but the Scarlet Knights prevailed 59-58. Although this year's team is completely different from last year's team, Penn State will still present a major problem for Rutgers.
Micah Shrewsbury has Penn State playing some of its best basketball as the Nittany Lions have recorded big wins over Illinois, Indiana, and Iowa. Penn State enters Tuesday's contest with one of the best 3-point shooting teams in the nation. According to NCAA Statistics, Penn State is 10th in the nation shooting 39.4% from 3-point range. Also, Penn State ranks 5th in the nation for 3-point shooting volume with 10 attempts per game, and the Nittany Lions are committing a nation's best 8.8 turnovers per game.
Despite being the nation's 4th most efficient defense according to KenPom, Rutgers was torched by Michigan State from beyond the arc last Wednesday as the Spartans shot 55% from deep. Rutgers had been holding teams to 29.6% from 3-point range. The Scarlet Knights also forced Michigan State to commit 11 turnovers, which is five fewer than what they normally force.
Rutgers has relied on its elite defense all season in games, and the Scarlet Knights are going to have to perform to their highest level defensively on Tuesday if they are going to defeat Penn State. Tuesday's game gives Rutgers a chance to get back to doing what they do best and that is to defend the 3-point shot. If Rutgers can defend the perimeter and keep Penn State in check, the Scarlet Knights will win the game and have some momentum heading into Sunday's contest against Iowa.
It was only a couple of weeks ago Rutgers and Iowa dueled at Jersey Mike's Arena only for the Hawkeyes to come out on top with an impressive 76-65 win. It was the most points Rutgers had given up to an opponent all season as the Scarlet Knights have been holding opponents 57.6 points per game. The biggest problem for Rutgers in January's affair was their poor perimeter defense and they allowed Iowa to convert too many 3-point shots. Iowa shot 44.4% from 3-point range and converted 12 3-point shots.
Iowa is the nation's 5th most efficient offense according to KenPom and Fran McCaffery has the Hawkeyes playing at a very high tempo. For Rutgers to come away with a big road win at Iowa, the Scarlet Knights are going to have to muck up the game by finding ways to slow down the tempo and shut down Iowa along the perimeter.
Ideally, Rutgers would like to finish this critical week 2-0, allowing themselves the opportunity to get to 7-3, stay within reach of Purdue, and to separate themselves from the rest of the pack. It would not be the worst thing in the world to finish this week 1-1 because Rutgers would still be in the upper echelon of the conference and they would stay above .500. If Rutgers were to drop both contests, the Scarlet Knights would fall to .500 in the conference and would join the rest of the pack.