PM Friday Notebook: Weekend scrimmage awaits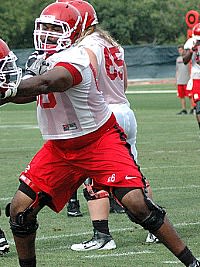 The Scarlet Knights ran through a light afternoon practice to wrap up their second Friday session. On the eve before the second scrimmage of the summer, here's a rundown of the latest from Piscataway.
Countdown to kickoff
With the start of the season rapidly approaching, there has been a bit of a different feel through the last few practices at Rutgers.
"You can feel the urgency on the field, there is no doubt," said head coach Kyle Flood. "I can feel the difference from the beginning of this week until the end of this week. We talked about how it's a four-week training camp before the first game. But training camp hopefully prepares you for the whole season."
The countdown clock in the Rutgers locker room is not ticking towards kickoff against Tulane, but instead winding down to Saturday's scrimmage.
"What I did was I set the clock for this scrimmage because I'm trying to give this scrimmage as much as we possibly can the feeling of a game situation," Flood said. "And then after we're done with this scrimmage, I'm going to set it for the Tulane game."
Saturday will also be a prime opportunity for this year's freshmen to prove themselves worthy of early playing time.
"It's the first true opportunity for the freshmen in our program to go on the field without coaches and show us what they can do," Flood said. "I think when you do that with a young player, it will be surprising sometimes what you'll see. Sometimes you'll be surprised in a good way, sometimes you might not be surprised in a good way. But every one of them is going to have a great opportunity to show what they can do."
Position battles
Flood said he is going to try and distribute the quarterback reps equally between Gary Nova and Chas Dodd. That will be a position battle in which tomorrow night's scrimmage will carry some weight, according to Flood. But that is not the only position battle to watch.
"The right guard position more than any [on the offensive line] will be influenced," Flood said.
Junior Andre Civil has been battling third-year sophomore Taj Alexander for that spot and Flood hopes that Civil will be a full-go tomorrow night.
"Andre has a foot issue and we're very optimistic that he's going to go tomorrow in the scrimmage," Flood said. "And I'm anxious to see it."
Civil moved over to the guard position earlier in camp, but the transition from tackle has been a relatively smooth one.
"It's been a little smoother than I expected because he's been at tackle since we moved him over two years ago and it's not always the easiest transition," Flood said. "But Andre is a very smart football player. That helps. Your football intelligence allows you to anticipate. Anticipation allows you to react quicker. You look like a better player when that happens. That I think has eased the transition for him."
Flood went on to mention the differences of playing guard and tackle.
"Tackle is a timing game because there's a distance between you and the players you are blocking for the most part. When you play inside at center or guard, everything happens right now and that does take some adjusting. You saw that the first day we moved him in there. The speed with which you have to be ready to punch and set your feet is completely different than being a tackle. But I thought after that initial adjustment to that in the first practice, he's progressed very nicely."
There will also be some position battles on the defensive side of the ball and Flood detailed which spots are up for grabs.
"The young defensive linemen, there's no doubt. I think we have a good feeling for who the top four or five guys are and then it's six through eight that has to get established."
Injury report
Safety Lorenzo Waters will not practice tomorrow due to an undisclosed injury and Devon Watkis will also likely be a scratch. Wide receiver Tim Wright is no longer wearing a wrap on his previously dislocated finger but he will be held out of action.
"We've progressed him to catching a real football and now hopefully our plan is he hasn't been in a live practice this week so why put him in a scrimmage," Flood said of Wright. "…Hopefully, Monday he'll be back up and running."
-------------------------------------------------
All new content written by our staff this week will be free Monday through Friday. If you like the content, please consider supporting the site with a
premium subscription
. The subscription will give you everything on the main page, including articles of interest (particularly recruiting) from other sites in our network, as well as access to the
Round Table
(premium forum). The Round Table is where we drop scoops throughout the week and answer our readers' questions. It is also where everyone discusses the articles and other hot topics of the day. We hope you choose to join us!!!!
Click
Here
to view this Link.