No. 25 Rutgers Women's Basketball tops Mich. State for sixth-straight win
Ranked No. 25 in the country this week for the first time all season long, the Rutgers women's basketball team continues to roll as it defeated Michigan State, 63-53 on Wednesday afternoon at the Breslin Center in East Lansing, MI.
Since losing two in a row before a five week pause, Rutgers (11-3, 7-3) is 6-0 since its return.
"The calls weren't going out way, but there was a mindset that we'll find a way to get it done. Everybody dug in," Rutgers head coach C. Vivian Stringer said. "We played in the 55 defense the whole time. We were in great condition. I thought Michigan State was exhausted. It took guts. Everybody played hard. We got a great win."
The win didn't come easy however as the Spartans (12-7, 7-7 Big Ten) led by seven points at halftime. It appeared as if Rutgers had cut the deficit to at least five as Tekia Mack was fouled and made a layup with 1.1 seconds remaining, but the officials took a long look on replay and determined that the clock stopped and that she didn't get the ball off in time.
Rutgers came out of the break with a purpose, going on an 8-0 run to take a 36-35 lead. All eight of those points came inside the paint. It had just 12 points in the paint in the first two quarters combined.
"They said the (half) was over a minute or two before and they just didn't have it on the shot clock and nobody didn't recognized it. It waved it off," Stringer said. "But we had the attitude to just forget it. We looked at each other and just said we'll lay the 55. Each person who stepped in helped us in a great way."
SIGN UP FOR PREMIUM FOR FREE UNTIL EASTER — CLICK HERE FOR MORE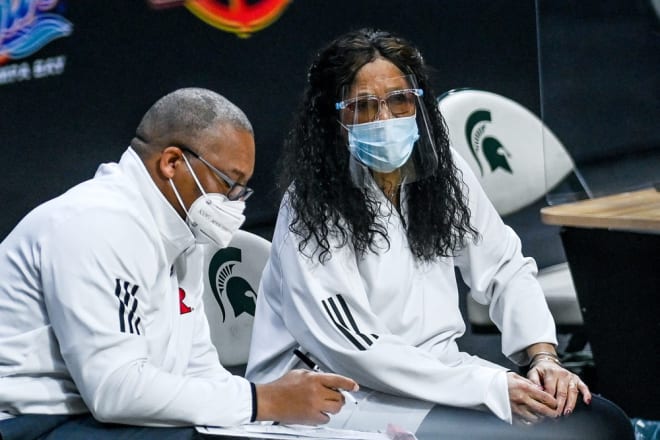 An 8-0 run put the Spartans back ahead by seven as they started to take more control of the glass.
The Scarlet Knights trailed 46-39 entering the fourth quarter, but Arella Guirantes, who came in third in the league in scoring at 22.2 points per game, struggled with just two points the first three quarters of play. But she had five quick points to start the final frame as Rutgers went on a 7-0 to knot the score at 46-46, prompting a MSU timeout.
Rutgers ballooned the streak to 12 points in a row to go up 51-46. Mael Giles, not known as a scorer or 3-pointer shooter, drained a 3-pointer from the left wing during the stretch. Rutgers won the quarter 24-7.
For full stats, click here.
RUTGERS PLAYER OF THE GAME: Freshman guard Diamond Johnson
Johnson dazzled all game long, netting a game-high 22 points. Coming in, Johnson averaged 18.7 points per game, and that number has now gone up. If the season ended today, she would be the program's top scorer as a freshman, passing the great Cappie Pondexter, who scored 18.3 ppg in 2002-03.
Her 53.3% 3-point shooting percentage, which was second in the country, however takes a dip as she was just 1-for-7 from long range.
"Diamond has been very consistent. She's calm for a freshman," Stringer said. "She wasn't nervous. She was excited. I was a bit nervous myself because I know how important this game was. She can handle the guards that she was playing and, and were more impressed with her defense than we were with our offense."
RHOOPS PLAY OF THE GAME: Johnson records a key block on defense with the shot clock running down in the fourth quarter.
KEY STAT: Rutgers forced 17 turnovers and scored 24 points off of them. Michigan State had just nine points on 13 Scarlet Knights turnovers.
UP NEXT: Rutgers remains on the road and takes on Penn State on Sunday at 12:30 p.m. on BTN. The Scarlet Knights finish up the regular season against No. 15 Ohio State at home on either March 5 or March 6.
Rutgers, according to ESPN and College Sports Madness, is currently projected 7-seed in the upcoming NCAA Women's Basketball Tournament in San Antonio, TX.
--------------------------------------------------------------
• Subscribe to our YouTube Channel
•Talk about it inside The Round Table Message Board
•Talk about it on the Rutgers Women's Hoops Free Message Board