More on the Ruhann Peele commitment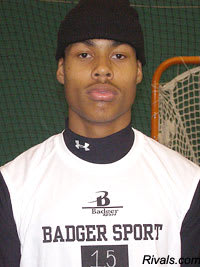 Linden wide receiver
Ruhann Peele
got the ball rolling on the Rutgers recruiting class of 2012, pledging his commitment to the Knights late Tuesday evening. Peele's high school head coach, Deon Candia, expressed confidence in his pupil's decision and stated firmly that Rutgers picked up a well-rounded prospect.
"I'm pretty close with Ruhann, when I took over as head coach he was one of our first young kids in the program," Candia said. "We always talked, and he said, 'If I find a school I like, I'm going to go for it.' He did a camp at Rutgers last summer and they just took a liking to him. He started building that rapport with them. They were the first to offer him and they believed in him early. I think that meant a lot."
According to Candia, one coach in particular made a big impression on Peele.
"I think Coach Fleck, with his personality, was big," Candia said. "He just talked to Ruhann, even off the field stuff. He introduced Ruhann to some things, about his game and his mentality. He helped him out a lot and I think he will help him more when Ruhann gets to Rutgers."
Besides his relationship with P.J. Fleck and the fact Rutgers was the first to offer, Candia feels location was perhaps the most important factor in Peele's decision.
"Ruhann is kind of a mama's boy, and he wanted to go to a school where his family would be able to watch him play and see him grow," Candia explained. "That limited him to certain schools around the area. I think Rutgers with its education and coaching staff was a good sell for him."
Rutgers was the only school to offer Peele a scholarship, which Candia attributed to multiple factors.
"I don't think he took an approach to get exposure, we kind of let the process come to us," Candia said. "We wanted to work on some other things, athletically and academically, rather than worry about exposure. I think he (Ruhann) made a name for himself in a short period of time."
Also, some programs might have seen his transcripts and saw he was a potential to be at risk in terms of qualifying. I think some schools were going to pull the trigger soon but he saw something in Rutgers and it would have been hard to sway him."
Candia doesn't foresee Peele having any issue qualifying academically and thinks with the support of the Rutgers program, he could excel in school at the next level.
"I definitely think the support of them (Rutgers) will be a boost," Candia said. "It's still early in the process so he can address some of his needs academically. Once he gets to RU, with their support and help, he should be fine."
Once Peele does make it to Rutgers, Candia expects him to make his presence felt.
"I told a couple of guys, if Ruhann is on the field, you will know he's there. He's one of the most competitive kids I've ever seen. He has a passion for the game, a passion to compete and a passion to be coached. He's a great sportsman and a hard worker."
Candia compares his player favorably to Hines Ward, in that Peele "enjoys playing the game, has good energy, is a winner and makes himself known on the field."
This off-season, Peele is making himself known off the field as well.
"He pulled the guys together, he organized them to go running and get in the weight room," Candia said. "It says something when your best player is your hardest worker. He leads by example and the young kids look up to him. That's a great quality."