Meet the 2-Deep: Antwan Lowery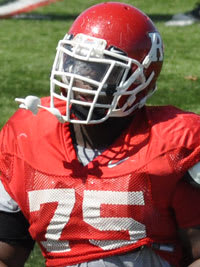 Position on spring 2-deep: Second-team offensive guard
Height/Weight: 6-foot-4, 302 pounds
As a Recruit: Lowery was a 4-star recruit until the end of the recruiting period. He was nudged down to 3-stars after participating in the prestigious Under Armour High School All-American Game in less than ideal shape. Although the weight was admittedly an issue as far as being ready to play as a freshman in college, colleges were obviously looking at Lowery's potential. His offer list was among the most impressive of any recruit to commit to Greg Schiano, ranging from USC to Miami. Schools were looking at him on both sides of the ball, primarily at the defensive tackle and offensive guard positions. With Antwan's brother Antonio already a Scarlet Knight, Rutgers had a strong ally throughout the process. In the end, family and familiarity with the school won out, and Lowery committed to Rutgers.
Scarlet Knight Profile: Once a promising young defensive tackle, Lowery is now looking forward to a bright future as an offensive lineman. Lowery made the move prior to the start of spring practice and was able to crack the two-deep right away. His spring was cut short because of a hand injury, although Lowery played enough to show that he has quite a bit of promise as an offensive guard. This season will likely be one long learning experience for Lowery as he has no prior experience lining up in the offensive trenches.
Scarlet Knight Highlights: Lowery has yet to get on the field during a game, although he still had quite an eventful first year in Piscataway. He came to Rutgers extremely overweight, but did an excellent job shedding those excess pounds right away. Lowery quickly dropped over forty pounds since his initial arrival in Piscataway where he checked in just shy of the 360-pound mark. That type of progress has continued as Lowery is now tipping the scales at 302 pounds. Lowery was also no slouch as a scout team defensive tackle last year. He gave the first-team O-line problems at times and even had his share of battles with Anthony Davis in practice a few times. Davis got the better of Lowery, however, the true freshman showed a lot of grit refusing to back down from the 11th overall pick in the 2010 NFL Draft.
2010 Outlook: The future remains very bright for Lowery. He is currently a member of the two-deep at offensive guard and is likely to begin the season as a backup. In his first year playing on the O-line, it would be a stretch to expect him to jump in right away and take over in a starting role. However, with an obvious lack of depth in the trenches, Lowery could find himself on the field sooner rather than later. The O-line remains shaky heading into the season and an improved Lowery could wind up pushing for a starting spot as time goes on. A lot of that will not only depend on Lowery's development, but the performance of the starters on the O-line. The better Lowery gets, the less room for error will remain for the players ahead of him on the depth chart.
* The 2-deep highlighted in this series reflects the depth chart released by the football program following the spring session. It is only meant as a reference point heading into the summer session. All positions will be contested and changes to the 2-deep will undoubtedly occur.