Matthew Thomas fulfills family promise by signing with Rutgers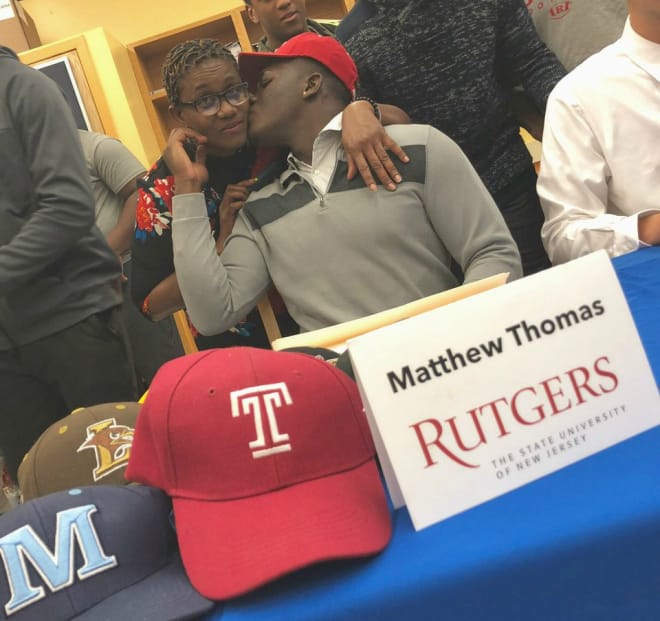 During the first-ever early signing period in college football, senior Matthew Thomas inked his letter of intent to Rutgers University, fulfilling both a personal dream and a family promise.

Thomas did not begin playing football until his freshman year at Midwood High School in Brooklyn, N.Y.
Prior to that, Thomas was a pitcher and first basemen on the baseball diamond and a power forward on the basketball court.
"My mom said I couldn't play football when I was younger," Thomas said. "I always wanted to play ever since I was little, even from just watching it on TV. But I started getting a lot bigger in middle school, so she final said it was okay."
Coincidentally, it was a family promise that helped pave the way to college football for Thomas.
"I made a promise to my mom that she wouldn't have to pay for college," Thomas said. "I figured football was the best way to do it. When I started my freshman year, I realized that I could actually take it somewhere."
Thomas fulfilled that promise by actually signing his letter of intent to Rutgers last week, although going to college for free started to become a reality when he received his first scholarship offer from Temple in late April of his junior year.
"It felt like everything I worked for just fell into my lap," Thomas said. "It was an emotional time."
Thomas will come to Rutgers as a defensive end, although he was also looked at as a tight end by some schools during the recruiting process.
"I actually knew it was going to be d-end sophomore year when I was playing a game against Port Richmond," Thomas explained. "One of the referees came up to me after the game and he was like 'wow, in a couple of years, you are going to be big. Let me know where you sign on signing day.' I didn't think much of it at the time, but now that I reached this point, I really took it to heart."
Thomas is looking to a future on the football field in the Big Ten, although he also has plans for life after football.
"I want to major in business administration and probably minor in finance or marketing," Thomas said. "My goal after football is to hopefully start my own business or manage a business."
And looking back on Thomas' rise through the ranks of high school football, he doesn't have to look far to offer up thanks.
"My mom played a really big role. She instilled me the thinking that I could never settle for anything. If I got an award, she always told me I could do even better. She didn't always tell me everything I wanted to hear, she always told me everything straight and I love her for that. She doesn't leave anything out. Like if I got too emotional during a game, she would always tell me to calm down. She is pretty much my rock and holds me together."