Harrisons draft stock on the rise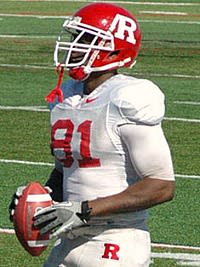 Mark Harrison's quest to play in the NFL took a huge step forward last week. The former Rutgers wide receiver made the most of his time at the 2013 NFL Scouting Combine, putting up some impressive numbers.
"It was a great experience," Harrison said of the Combine. "It was a business trip at the same time, but not too many people can say they walked in those shoes. Being around that type of competition was eye-opening and makes you that much more grateful for what I do and how far I've come in my career."
Harrison arrived in Indianapolis and measured in at a solid 6-foot-3, 231 pounds. He registered a 38.5 inch vertical and was clocked at an official laser time of 4.46 in the 40-yard dash.
Hand-held times down on the field at Lucas Oil Stadium reported him running even faster than that.
"Everybody is saying it's a good time, but I'm my own worst critic," Harrison said. "I feel like I can run a lot faster than that. I'm still debating whether I'm going to run my forty at my pro day. I feel like I can get a lot faster time."
Harrison widened a lot of eyes out in Indianapolis, although he arrived as a bit of an underdog among the wide receiver contingent.
"I was definitely an underdog. I even got asked in a few interviews about being a 4.6 guy," Harrison said. "I knew for a fact I wasn't running that. I know my speed and I know my abilities. That was one thing I wasn't worried about. I can let people pretend on paper but when they see that clock stop, that's it right there."
In preparation for the Scouting Combine, Harrison spent the months of January and February training at Fit Speed Performance in Weston, Fla.
During his training, he was able to take some helpful hints working with All-Pro wide receiver Brandon Marshall of the Chicago Bears.
"I was prepared for it, I came in there ready to work. We train hard at Rutgers so I carried everything over," Harrison said. "There really wasn't that big of a transition. It was just more of fine-tuning the little things. Brandon was always telling me that's the one thing you have to work on, just work on the little things. Having him able to give me that advice was a great thing."
Harrison also claimed that he was able to handle the mental stress that comes along with a hectic four-day stint at the NFL Combine.
"You're up all day going from place to place and from meeting to meeting. You have to be prepared for anything and stay on your toes the entire time. But we're trained for chaos, we're trained to be in uncomfortable situations so it really wasn't anything out of the ordinary for me."
Harrison remains in Weston, Fla., but will return to his hometown of Stratford, Conn., on Tuesday. The following week, he will meet with NFL scouts again at Rutgers' pro day on March 13th.
This brand new season is much different for Harrison, who spent three and a half years at Rutgers after playing as a true freshman.
He mentioned the differences that have come with preparing for what is essentially a four-month job interview for a job in the NFL.
"Just waking up working out and then going back home and relaxing is a little bit different. I'll wake up paranoid sometimes like I'm missing something, like a class or something."
Harrison's name is being mentioned more and more among draft experts as one of the recent risers in the 2013 NFL Draft, which will take place during the final week of April. However, Harrison maintains that his focus will remain just as sharp as it was out in Indianapolis.
"There is a lot of time until the draft but you can't get caught up in that blogging stuff or what people say or don't say about you. Even in college, I wasn't going on the internet and typing my name up. I'm too locked in. There's no time to stress or worry about outside distractions that can get you off that path. You have to come at it every day ready to go."