RB Gus Edwards talks Rutgers commitment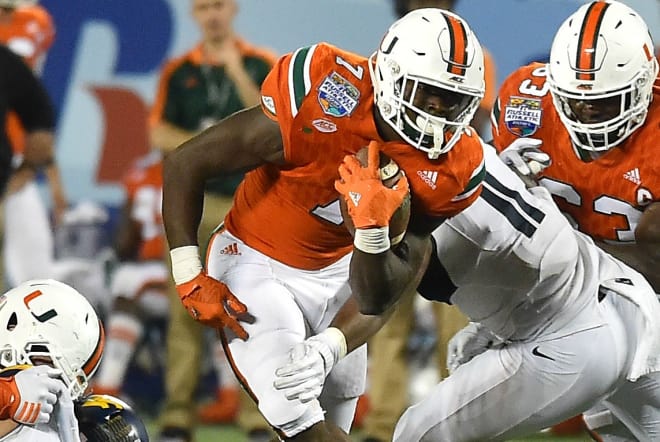 Rutgers landed a veteran running back today as Miami grad transfer Gus Edwards officially signed with the Scarlet Knights. Edwards talked with Scarlet Nation about what went into his decision.
"It is a great opportunity to get back home for my last year and be closer to my family. I really like where Coach [Chris] Ash has the program heading. Coach [Jerry] Kill is going to come in and do a great job with the offense and I have a great bond with the running backs coach [Lester Erb]. I think I could learn a lot from him. I think I could come in and make an impact."
There has also been no talk of using Edwards as a fullback.
"I never played fullback before," said the 230-pound Edwards, who will line up at tailback this summer when he arrives at Rutgers.
Edwards signed on today to join the Scarlet Knights, making it official. All he needs to do now is finish up his last four classes at Miami this semester.
"I graduate in May," Edwards said. "So I will be out to Rutgers as soon as I can after I graduate. I took my first step in signing, now I just have to finish strong."
Edwards is just shy of 1,000 rushing yards for his career and is banking on having his best year to date in 2017.
"I know Rutgers had a tough season last year, but I feel like going there was best for me," Edwards said. "I am going to have a lot of growing top do outside of football and I think they can help me with that. I also have the chance to play at a competitive level. The coaches have a year of experience there, so it is going to be that much better. I really believe in the coaching staff and where the program is headed."
Edwards also mentioned that the staff was excited when he told them of his intentions to join the program.
"I guess I was what they were looking for. We have built a great relationship over the past couple of months. They are really excited to have me there. I just really like where things are headed."
Edwards chose Rutgers over other finalist Oklahoma State while plenty of other schools were in pursuit.
"Not a lot of people get to go through recruiting twice. I just wanted to make a good decision for me and my family. There were a lot of schools that were talking to me, but after I visited Rutgers, I cancelled all my other visits. That was the best opportunity."