Cornerback: The vacancy of least concern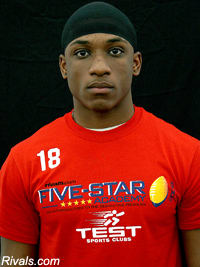 Each season, part of every college football coach's job is to fill vacancies up and down the starting lineup. On some occasions, a long list of qualified candidates makes a coach's job that much easier. For Rutgers head coach Greg Schiano, this year may be such a year at the cornerback position.
Schiano will head into the season with an ample supply of young cornerbacks capable of filling the vacancy left by Jason McCourty. Here's a look at those who are in line to assume the role as Rutgers' next starting cornerback.
The inside track:
Rowe played in passing situations last year as the team's third cornerback and steadily improved over the course of the season. Throughout training camp, it took Rowe a little while to get acclimated to the new defense but once he got started he continued to pick up steam. As of now, Rowe looks to be the early favorite to replace McCourty and will start to jockey for that position this spring.
Jones started to get some work early in training camp last year, but then watched Rowe move right past him on the depth chart. That doesn't imply Jones is not capable of competing for time this season as he does have the advantage of a year in the system. This spring could be a very pivotal time for Jones in regards to how next season pans out for the talented South Jersey native.
Making a fresh start:
Of all the talented freshmen defensive backs on this year's team, Ryan may be the most ready to step in and play right away. A solid cover corner, Ryan has the ability to blanket receivers and can also press opponents at the line of scrimmage. Couple his talent with a productive summer and Schiano could very well revert to starting a true freshman on opening day.
Smith possesses great size and strength for a cornerback and could also have a legitimate shot at contending for a starting role. As is the case for most freshmen, Smith's playing time could be dictated by how quickly he can learn the defense. His speed and size already qualify him as a viable candidate.
Pratt could wind up on the offensive side of the ball but, for now, it appears as though he will line up at cornerback. Pratt is a very athletic player with a high football IQ and seems to have a knack for always finding his way to the ball. This summer, he will get the opportunity to compete alongside some other talented freshmen as the new contingent of cornerbacks should create some intriguing competition.
Warren made the move to cornerback last year, but a knee that was recovering from injury limited him throughout the season. This spring, that knee should be fully healed and Warren will be able to show how well he has adjusted to his new position.
On the outside looking in:
Anderson has good football savvy and a solid work ethic. His speed has been questionable, however he still managed to find a way on the field at certain points over the course of last season. Anderson probably won't challenge for a starting role, but could see some time as a backup.
After playing some critical minutes as a true freshman, Bing kind of fell off the radar last year. He is equipped with excellent speed, but will have to attain a better knowledge of the position if he plans to be more of a contributor.
Hutchins has not been able to threaten for playing time as of yet and will face even more competition this upcoming season. His only appearance was a very brief one against Fresno State. Unless Hutchins makes considerable strides, he won't figure to see much more playing time this upcoming season.