1-on-1 with Jerome Seagears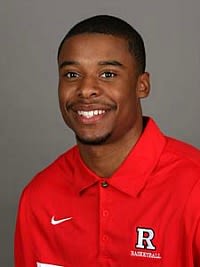 After a subpar start to his sophomore season, point guard Jerome Seagears has begun working his way back to form and into the starting lineup. He sat down with Scarlet Nation following practice this week to discuss how the season has progressed for him and his team:
Matt Hladik: You've been back in the starting lineup the past few games, and have kind of gotten into a rhythm. Are you feeling a little bit more comfortable in that role?
Jerome Seagears: Yes, I'm just getting the flow back. I'm trying to get back to my normal game and help my team out in any way possible.
MH: When you are on your game and everything is clicking, what can fans expect from Jerome Seagears?
JS: Just excitement. For example, the beginning of the Pittsburgh game, just providing that spark, getting up, getting my teammates going, getting easy buckets in transition. Just getting that flow going.
MH: In the beginning of the season, when you were coming off the bench and you were struggling offensively, had you ever gone through anything like that before?
JS: No, never. Like I said before, all of the players on the team, they were either the best player on their [high school] team, best player in their state, best player in their county, whatever you call. I don't think any of us really go through it, but it's a great learning experience.
MH: Now that you're starting to come out of that slump and play up to par, looking back, how did you get through that and what brought you out of it?
JS: I guess it was just a matter of time before I got the offense down pat. It kind of started once we got to BIG EAST play and out of the non-conference games, I can't recall exactly when.
MH: When you, Eli [Carter] and Myles [Mack] are out there starting or playing together, how can you guys feed off each other? What do you each bring to the table?
JS: We're all aggressive; therefore, we put pressure on the defense and it makes it easy for one of us to have scoring opportunities.
MH: When you look at USF, what are
you kind of expecting going into Thursday night?
JS: Well, I know one thing; we lost to them last year on a buzzer-beater. It's definitely something to look forward to, going out there and competing against them to get the W. But they're a good team, they have a lot of good players.
MH: One thing that someone asked Coach Rice already, and it's true: you guys have lost a couple of games this year but you have been able to avoid a prolonged losing streak. How have you guys worked through to prevent something like that from happening?
JS: We just don't want our losses to take on a snowball effect. We just try to take it as one loss.
MH: What is the difference between
this year and last year in terms of not allowing a snowball effect? Is anyone doing anything differently?
JS: I would probably say we're just older and more mature. That is always a plus.