Moms know best: Carroo a fit for Rutgers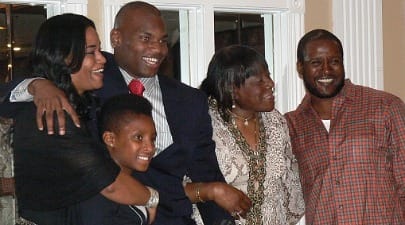 For Don Bosco wide receiver
Leonte Carroo
, his announcement on Saturday night that he has committed to Rutgers University signified the welcome end to a hectic recruiting process. Judging by Carroo's comments post-ceremony and his desire to help influence other talented recruits to commit to RU, the 6-foot-1, 200 pound receiver is completely at ease with his decision.
More importantly, so is the woman most influential in his recruitment: his mother, Lavern.
"Yes, it's definitely a relief to get it all over with," Lavern Carroo said following her son's announcement Saturday evening. "Leonte's happy. We're confident in him and his decision, and we're standing by him 110 percent."
Lavern Carroo, like her son, was impressed by Rutgers assistant coach Jeff Hafley throughout the recruiting process. In fact, she has glowing things to say about the staff as a whole.
"Definitely, he was very compassionate and trustworthy, I believe," she said of Hafley. "Very honest, he definitely did a great job.
"Rutgers is an A-plus in my book. Coach Schiano and the whole staff, I love them, they're all great. F.A.M.I.L.Y (Forget About Me I Love You), I love it. Leonte's home, he's home."
On Saturday night, home was L'Affaire Fine Catering in Mountainside, where Carroo made his announcement in front of over 100 family members, teammates and relatives. The amount of respect and admiration in the room was not lost on Lavern Carroo.
"This turnout was amazing, you definitely can feel the love in the building," she said. "Again, with him committing to Rutgers, he's there with some of his Don Bosco brothers. There's a lot of kids from New Jersey born and raised so it's definitely a family atmosphere. You know staying home is important, loving your family and staying home is important."
Carroo was born in Plainfield and is an Edison resident, but during the school year, he calls Ramsey home. Since midway through his freshman year, he has lived with Don Bosco teammate Mike Yankovich while school is in session. By choosing Rutgers, he affords the opportunity for his mother, father and various relatives to conveniently attend his games.
"Rutgers is six minutes away from where we live to get to the field, that's amazing," Lavern Carroo said. "Everyone is already planning the sleepovers at my house before we head over to the games. Crazy, it's crazy."
Allie Yankovich had the pleasure of raising Leonte like one of her own throughout his time at Don Bosco. She and her husband Bill received a plaque from the Carroo family during the ceremony as a token of appreciate for all they have done.
"I think it's wonderful for him, he's been away for his family for four years of high school," said the woman Leonte refers to as a second mother. "I got the blessing of having him. Now he gets the ability to go back to his family and enjoy Rutgers and his successes."
With fans around the Garden State already well aware of the exploits of Leonte Carroo the athlete, it seems appropriate to get a gauge of who he is as a person. Allie Yankovich was more than happy to provide the answer.
"Sweet, respectful, kind loving, great kid, great to have around," she said. "He walked into our life and became part of the family."
-------------------------------------------
All content generated by Scarlet Nation writers from August 4-10 is free to everyone. We hope you enjoy this opportunity to see the type of Rutgers coverage subscribers get 52 weeks a year.
We are also happy to offer you an exciting 30 day extended free trial, which will take you all the way through training camp. Just visit our
subscription page
and enter the promo code: Rutgers30.
Don't forget to visit our
message boards
and spread the word through your favorite social networking sites. Thank you for your support!